The new glyphosate dossier is admissible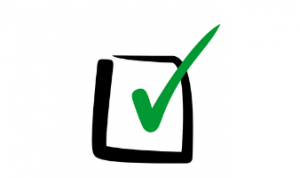 Today 18 August, the Assessment Group on Glyphosate (AGG) informed the Glyphosate Renewal Group (GRG) to have concluded that the new scientific dossier that was submitted by the GRG in June is complete and admissible, meaning it meets the applicable requirements provided by the EU Plant Protection Regulation. Please find the official AGG letters below.
This marks an essential milestone in the process for the renewal of the authorisation of glyphosate in the EU, which can so move to the next phase: for the coming 11 months, the competent authorities of France, Hungary, the Netherlands and Sweden, forming part of the AGG, will perform  the science-based review and assessment of our dossier. The latter contains approximately 1,500 scientific studies (out of which approx. 100 are new), an evaluation of around 12,000 published scientific articles on glyphosate for their relevance for the scientific evaluation of the substance, as well as supplementary data and information of the positive impact glyphosate can have on biodiversity.
In compliance with the stipulations of the EU Plant Protection Regulation, the Glyphosate Renewal Group submitted to the AGG a dossier comprising scientific evidence of glyphosate safety on 8 June 2020[1]. On 10 July, the AGG requested complementary information to the dossier that the GRG submitted accordingly within the given deadline of 24 July. The correspondence with the AGG on this matter will be available soon on this website.
Following the positive AGG conclusion on the admissibility of the glyphosate dossier, the GRG will now voluntarily make the non-confidential part of the submitted dossier accessible on its website: in compliance with the General Data Protection Rules (GDPR)[2] free access will be granted to anyone interested in its content.
The AGG letters on admissibility can be found here: Hungary, Sweden, The Netherlands and France.
Please find below more information on the timeline of the process to renew the authorisation of the active substance glyphosate in the EU (except any delay that may occur for exceptional circumstances).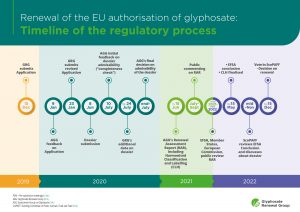 1 One week before the deadline of 15 June foreseen by the EU authorisation process for active substances
2 Personal and confidential information will not be disclosed